Case Study:

Town & Country Markets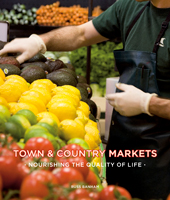 Milestone:
50th Anniversary
Objective:
Regional grocery chain Town & Country Markets desired a book that would serve as the centerpiece for a milestone anniversary celebration for employees, customers, and the community.
Challenges:
Although Town & Country had just six locations and a few hundred employees, it had a high profile within the community and a long, rich history to celebrate. Company leaders challenged us to produce a high-quality coffee-table book that belied its modest cost and small print run.
Solutions:
We commissioned a local business journalist—who was also a Town & Country customer—to write a straightforward, chronological history of the organization. We tapped past and present employees for images, arranged a donation to the local historical society that gave us free use of its archival images, and hired a photographer to document the stores' activities around the clock. We crafted a design that made maximum use of available imagery as well as production efficiencies, and selected economical printing materials. Throughout the project, we provided imagery and content that Town & Country Markets could use in its stores and communications materials to lead up to the anniversary celebration.
Fulfillment:
We timed delivery to Town & Country Market's 50th anniversary celebration, allowing company leaders to distribute books to event attendees. A reserve of books was held for future employees, and reprint terms were determined so that Town & Country Markets could continue to make use of this book in the years ahead.
Results:
Town & Country Markets was able to increase its already solid public awareness of its brand by previewing book content in stores and communications leading up to the anniversary, then distributing books at a well-attended anniversary event.