Case Study:

H. Wayne Huizenga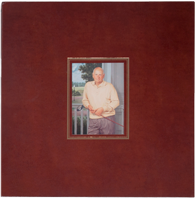 Objective:
Marti Huizenga, wife of legendary entrepreneur Wayne Huizenga, wanted to surprise her husband with an elegant, well-written book that would pay fitting tribute to her husband's extraordinary accomplishments for their fortieth wedding anniversary.
Challenges:
With Huizenga having owned dozens of sports teams and companies—including six listed on the New York Stock Exchange—and experienced endless adventures with family and friends, fitting Huizenga's life story in a single book would prove formidable. Because it was imperative that the gift remain a surprise, the book had to be produced with the aid of just a few trusted family and business insiders. No contact with past companies could be made, necessitating that we locate available imagery elsewhere. Last, the book needed to be both exceptionally grand and produced on an expedited schedule to be ready for the anniversary event.
Solutions:
Mark Seal, a seasoned author and respected magazine profile writer, was engaged to discretely interview family and friends and draft a 100,000-word manuscript. Objects, documents, and photographs from Huizenga's office were photographed while he was away, and all reviews with his wife were conducted in secret meetings, often concluding just minutes before Huizenga was due to arrive. Thousands of personal and business images were culled through to select more than five hundred images for the book.
Fulfillment:
A 392-page, slip-cased, leather-bound book was presented by Marti Huizenga to her husband at an anniversary celebration brimming with friends and family while a slideshow of imagery from the book was projected behind them. Each guest in attendance received the book in a cloth bag festooned with artwork from the book.
Results:
The surprise book was produced quickly and quietly but delivered with a fanfare that exceeded expectations of all involved.