Case Study:

Perkins Coie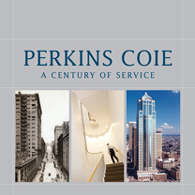 Milestone:
100th Anniversary
Objective:
Perkins Coie, a law firm with offices across the United States and Asia that remains a venerable Seattle institution, sought to mark its centennial with a recounting of its history and celebration of the firm today.
Challenges:
While Perkins Coie desired a highly visual history, its archives consisted of not much more than documents and partner headshots. The firm's open, collegial culture necessitated buy-in on the content from a very large number of partners.
Solutions:
We expedited the creation of a manuscript so that the stakeholders had ample time to circulate and receive broad-based partner input on the text. In the meantime, we traveled to eight offices in the United States and Asia to photograph the firm's staff and attorneys. The imagery of Perkins Coie today created a colorful and highly visual backdrop, allowing a selective collection of archival material to provide compelling punctuation to the story.
Fulfillment:
The book was presented to all attendees of the firm's partner planning conference as well as distributed to each of the offices. Signature pages were circulated to offices so that individuals could write personal messages to the firm's long-serving managing partner. These pages were bound into a small book that was incorporated into the case for a special leather-bound edition presented to the managing partner at the anniversary event.
Results:
Perkins Coie had a magnificent centerpiece to their anniversary celebration as well as a visual history that honors the firm's rich history. The firm also gained rich assets for future use in marketing and communications efforts, including more than 1,000 new day-in-the-life images provided as ultra-high-resolution files on a hard drive.