Case Study:

Humana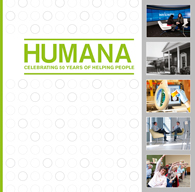 Milestone:
50th Anniversary
Objective:
To celebrate its 50th anniversary, Humana wanted to honor its rich and varied history while emphasizing its role today as a leader in shaping solutions to current health care issues.
Challenges:
Humana had many roles in the health care industry before becoming a health insurance company. We wanted to help Humana acknowledge this heritage while keeping the focus on its identity today. We also needed to find a way to round out the available archival materials.
Solutions:
To help emphasize the culture and priorities of Humana today, we developed a thematic narrative that quickly focused on the company's role in health insurance. An extended middle chapter traced the company's chronological history, allowing background information to be imparted in a secondary way. We photographed Humana employees and members in office, pharmaceutical fulfillment, and retail center settings throughout the country, producing a vibrant array of images that reflect Humana's people-centered approach.
Fulfillment:
Copies of the book were given to guests at an anniversary celebration as well as distributed to every employee throughout the country. Humana is maintaining an inventory of books so that a copy can be given to each new hire.
Results:
Humana gained a valuable tool to ground its innovative, solutions-oriented identity as a health insurance provider in its storied past while celebrating its recent successes and lively corporate culture.