Case Study:

Family Dollar Stores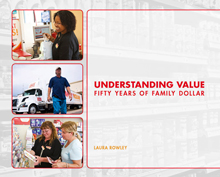 Milestone:
50th Anniversary
Objective:
Discount retailer Family Dollar Stores wanted to mark its milestone anniversary, but wanted to do so in a way that celebrated its employees and was respectful of the difficult economic climate.
Challenges:
In addition to wanting to project a modest profile, Family Dollar also had a modest budget for the project. With a limited historical archive and minimal participation from the company founder, it was clear we needed to preserve the history of the company while keeping the faces of the company today front and center.
Solutions:
We created for Family Dollar a slim paperback book that touched on its storied history but focused more on the corporate culture of the company today as well as the company's recent and upcoming initiatives. Tightly coordinated photo shoots in stores, distribution centers, and corporate headquarters captured the interactions of employees and customers, creating a portrait of the company that would ring authentic to employees.
Fulfillment:
We helped Family Dollar utilize its already strong overseas transport infrastructure to economically ship the books from our printer to its headquarters for drop-shipping to key employees and other stakeholders.
Results:
Family Dollar was able to commemorate its anniversary in a way that stayed true to its spirit of value, preserved its history, and made all the employees who received it recognize themselves in the book's pages. The result is a book that is invaluable for current and incoming employees and will remain a testament to the company's accomplishments.