Case Study:

CBRE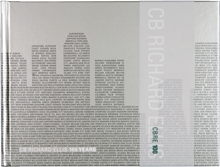 Milestone:
100th Anniversary
Objective:
CBRE, the world's largest real estate services company, wanted to mark its centennial with a contemporary book that communicated the essence of its corporate culture.
Challenges:
CBRE has evolved through many changes in ownership and global acquisitions. Our job was to document the past and present it in an inventive way that would serve the company for years to come. CBRE lacked an archive, so imagery would need to be gathered from CBRE offices and alumni.
Solutions:
Rather than produce a traditional history, we crafted essays focusing on various leaders, decisions, and challenges from the past that, taken as a whole, convey CBRE's three core values: service, vision, and leadership. While we created an online database to identify and manage a wide array of photos and memorabilia from individual sources, our team traveled to CBRE's six largest markets and took 3,000 day-in-the-life photographs of CBRE's employees at work—from interns to property managers to executives. These images made all the difference, and are now used by CBRE in new projects.
Fulfillment:
Directly from Hong Kong, we delivered two copies with a printed insert to 200 international offices. From our warehouse in Seattle, we drop-shipped books in varying quantities to every office in the U.S., retired employees, and subsidiaries—with a note from CBRE's chief executive officer inserted in every copy.
Results:
The book produced is used as a marketing and recruitment tool and serves as required reading during employee orientation in more than 400 offices around the world.