Case Study:

Hines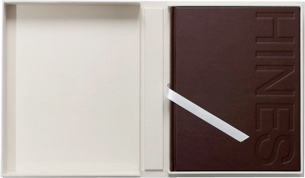 Milestone:
50th Anniversary
Objective:
Hines wanted a book that would serve as the centerpiece of the real estate development company's anniversary celebration and be the definitive biography of its octogenarian founder.
Challenges:
Hines challenged us to produce a book suitable for both corporate use and retail sale alongside high-end architectural books. Before coming to us, Hines's communication team had been developing a manuscript without success for six years, and they wanted finished books with a new text in less than one year. The company had stunning photography of its properties but was missing journalistic photos of people in and around the properties and their park-like environs.
Solutions:
We commissioned 13 writers to craft essays on key elements of Hines the company and Hines the man, including such subjects as innovation, sustainability, art, and global expansion. A collection of esteemed contributors—including Pulitzer Prize–winning architecture critic Paul Goldberger, Vanity Fair contributing editor Mark Seal, award-winning architects David Childs and Robert A.M. Stern, and three-time U.S. Presidential Award winner and sustainable designer William McDonough—distinguish this book. To give readers a sense of Hines's global footprint and leadership in sustainable building practices, we photographed people and properties in eight countries where Hines is active.
Fulfillment:
As we do for most clients, we managed the global distribution of books to Hines offices and partners. The book was made available to the public through a retail partnership with the Urban Land Institute.
Results:
The books were completed for Hines in less than a year, and we delivered the first book off the bindery line to Gerald Hines on Christmas Eve. In addition to the book serving as a powerful marketing tool for Hines, its availability for retail sale met Hines's expectations.