Case Study:

Ernest Jacob Olde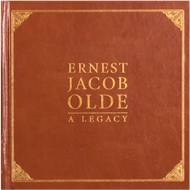 Objective:
Ernest Jacob Olde was a pioneer of discount brokerage investment services who passed away shortly after selling his firm. His widow commissioned us to produce a book to be given to family and friends, and to ensure that future generations would know Ernie Olde's remarkable life story.
Challenges:
For this project, the primary challenge was similar to any private book we produce for individuals and families: protecting the privacy of our client. In addition, publishing a book about someone no longer living would require a deeper level of research and interviewing in order to capture the personality and character of Ernie Olde without the benefit of interviewing him.
Solutions:
Ernie Olde knew so many people throughout his life, dozens of whom were interviewed for this book. We successfully balanced our research with the paramount obligation to maintain our client's privacy from start to finish. We designed a hand-numbered, leather-bound edition with gilded edges and a silk ribbon, enclosed in a cloth clamshell box, creating an heirloom-quality book. We bound in a vellum sheet so that each copy could be numbered and the recipient's name could be hand-written.
Fulfillment:
All of the books were packed and delivered to a climate-controlled storage facility where copies are kept to present to friends as well as future members of the family.
Results:
We delivered a book that serves as a lasting tribute to a great man, while protecting the privacy of our client and her family.