Case Study:

Dover Corporation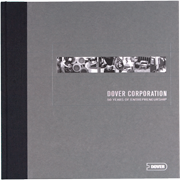 Milestone:
50th Anniversary
Objective:
Dover Corporation, a Fortune 500 manufacturer of industrial products, desired to mark its 50th anniversary with a publishing program that would honor its history as well as more than 50 independent operating companies and 27,000 employees around the world.
Challenges:
Dover prided itself on the autonomy it granted its operating companies as well as its lean corporate office responsibilities focused on financial reporting. Therefore, no centralized repository of imagery or archives existed. We needed to balance the story of the corporation with those of the more than 50 operating companies that were part of Dover at the time.
Solutions:
We reached out to individuals at each of the operating companies to receive all available imagery and interviewed dozens of individuals at the corporate office and various operating companies to develop a personal, anecdotal history of the company. We used this content to create a 160-page coffee-table book, more than twenty smaller history booklets on key operating companies, a Flash-based app for the corporate Web site, and a twenty-minute documentary video.
Fulfillment:
Dover used the books as a sales and marketing tool as well as a primer on the corporation used by prospective and new acquisitions. Dover also distributed a quantity of books to each of its operating companies plus booklets for the operating companies who commissioned individual histories. Each operating company had the choice of using the booklet on its own or tucked into a pocket built into the back cover of the main book. Dover distributed manufactured DVDs to potential acquisitions and investors and posted the interactive Flash-based app on its Web site.
Results:
Dover gained not only a marker of its milestone anniversary but also a set of strong sales and marketing tools. Dover was able to strengthen the unity across its fifty-plus operating companies while acknowledging the business units' individual histories and triumphs.